Therapeutic riding refers to all curative equine activities of sport (equine activities adapted to the rider to achieve certain levels of riding skills) and education (with emphasis on cognitive, behavioral, psychological, and physical goals of rider using the horse as a motivator). Unlike pure recreational riding, therapeutic riding is done with a trained instructor and administered with the supervision of a physical therapist, occupational therapist, or speech language pathologist, where applicable.
GREAAT! places a large emphasis on education while conducting therapeutic riding and equine-assisted-therapy sessions for clients, pediatric as well as adult. Many of our pediatric clients are served in the Special Education classroom so it is vital for the riding staff to be aware of all facets of each individual client, including the nature of the disability, the effects of any medication, the Individualized Education Plan (including goals and objectives) while maintaining open communication with the client's legal guardian(s). It is part of the enrollment process of GREAAT! to consult with the client's guardian(s), teacher(s), psychologist, and doctor/therapist to develop an accurate rider profile.
The activities involved in therapeutic riding vary each session. Activities may include either a ground lesson or mounted lesson or both, and are tailored to stimulate the physical and cognitive abilities of each individual client. A class may include from two to four students, a matching number of horses, one or two certified riding instructors, and an appropriate number of side-walkers and experienced horse handlers. Depending upon his or her ability, a client may need a horse leader plus one or two trained side-walkers who support and help maintain their balance.
The mounted lessons consist of lessons in all phases of horsemanship. Ground lessons may consist of a classroom component and a stable management component. Classroom instruction includes lessons in animal science such as basic equine care, nutrition, anatomy, growth and reproduction. In addition, the clients are taught the different parts and care of appropriate tack. Lessons are designed to be related to life experience as well as to self-help and survival skills. The teaching of stable management skills are intended to provide vocational skills useful for the students who are able to enter the work force. Students learn tasks such as cleaning and bedding stalls, sweeping, raking, feeding, and watering. Supervised grooming and care and organization of equipment are also integral parts of this component. Stable management lessons complement skills and concepts taught in the classroom components.
Incorporated in all areas of instruction are the extremely important skills of discipline when working with horses and of social interaction with peers and related adults. It is also important to note that many safety guidelines are incorporated into each lesson.
Therapeutic Riding Director: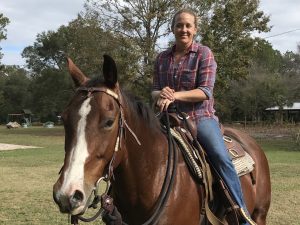 GREAAT! Director, Brooke Lucas, is responsible for maintaining and managing the existing therapeutic riding programs as well as developing new programs; thus, a primary duty of the Director is to develop and implement the curriculum of the Therapeutic Riding program. The Director is the first link in ensuring that safety is a major concern by maintaining the highest level of safety standards developed by the corporation. The instructor will provide recommendations for any identified issues or problems concerning the program or the facility to either the Executive Director or to the Therapeutic Riding director.
Duties of the Therapeutic Riding director include the following:
• Develop and implement a Therapeutic Riding program
• Aid in the development and training of volunteers
• Aid in the development and training of suitable program horses
• Maintain the program documentation
• Evaluate program participants
• Maintain communication with all program participants and their families
Why Therapeutic Riding?
Therapeutic riding and equine-assisted-therapy can be used to help clients with many life and academic skills. Therapeutic riding requires the rider to appropriately sequence multi-step tasks in order to properly catch, groom, tack, ride, untack, and put away an equine. Learning these task-analysis and pre-planning skills will help the rider become more proficient in many academic and daily living skills. Many people with disabilities have some degree of motor/sensory delays; for a student this translates to difficulties in most areas of school, from getting out the appropriate supplies to writing an answer on paper. Therapeutic riding can assist the rider by giving strong sensory input which allows the riders' body to integrate movement while doing other tasks, such as looking ahead or guiding the horse by moving the reins. These multi-tasking skills are imperative for success in the classroom, in the workplace, and in life. As the client progresses in riding skills he/she will also be progressing in auditory, oral, and motor skills and connections, thus improving important learning processes. This process of linking the words with the actions enhances attention, memory, and processing speed. The positive relationship between rider and instructor also include many forms of positive interaction and an emphasis on appropriate communication.
Learning Disabilities: Children and adults with learning disabilities may have a short attention span, poor memory, difficulty following directions, underdeveloped social skills, inadequate ability to discriminate between and among letters, numerals and sounds, poor reading ability, coordination problems, processing deficits, difficulties with sequencing , disorganization and other problems that may affect all the sensory systems. Equines can be an equalizer that allow children or adults with learning disabilities to practice their skills in a non-threatening environment while having a terrific time.
Attention Deficit Disorder: Children and adults with ADD with or without hyperactivity may also have secondary difficulties with learning or language disabilities, fine or gross motor delays, and behavioral/social problems.
Other Mental and Emotional Disabilities: Through equine-assisted-therapy, individuals can establish positive relationship with other riders, instructors and equines. They will learn riding skills, which may become an outlet for stress, as well as valuable life skills such as increased confidence, patience, independence and self-esteem.
Learn More About:
Equine-assisted Therapy History