2016 Year in Review
January – April
Carol Huegel provided Hippotherapy. This was her last season working with GREAAT! before she moved. She now splits her time with her children and grandchildren in Tampa and Philadelphia. She will remain on the board of GREAAT! and continue to mentor from a distance.
I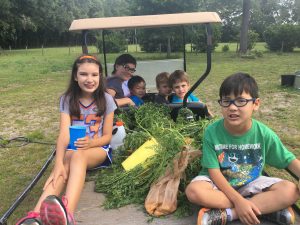 n the spring, students planted cucumbers, carrots, zucchini, beets, kale, tomatoes and sunflowers in the garden. After each lesson they ride or walk to the garden, check progress on the plants and make plans for what we can do to continue improvement. The garden is a useful tool in many ways. It teaches us that when we plant something, it must be monitored and nurtured routinely for a successful harvest. We can apply these same principals to life. It is fun to harvest our veggies and talk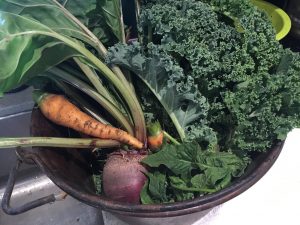 about how to use them. Many of our students are typical "picky eaters", but when a child grows the food they almost always eat it.
May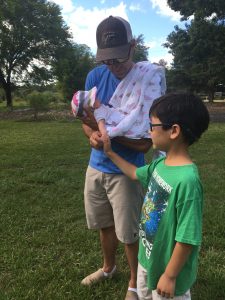 Matt and Brooke welcomed their baby girl, Joanna Dee Lucas, home to the farm. All the students were invited to harvest all our veggies and meet the baby. After much consideration, it was decided to take the summer off riding and resume in the fall when weather is more conducive to riding.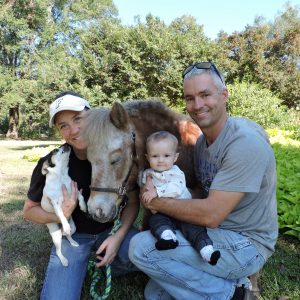 September
Brooke completed continuing education with courses on ADHD strategies and one-on-one training with CHA certified trainer Ken Najorka.
October – December
The arena fencing proved to be a turning point for riders and their confidence. All the riders have improved tremendously. Milana, at 4 years old, completed the whole obstacle course off lead!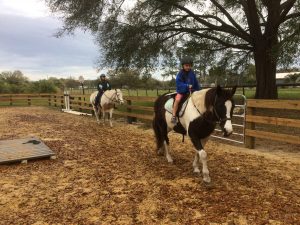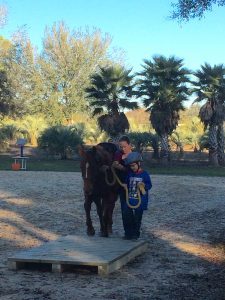 Throughout the year, we focused on caring for the horses, cleaning stalls and groundwork and developing independence through riding skills. Some of the themed lesson plans and games included:
Cowboy/Cowgirl Bingo
Students ride around arena identifying tack, horse objects and their purpose while playing bingo.
Groundhog Day
Riders practice "walk on" and "whoa" cues while answering horse safety and anatomy questions and collecting groundhog cut-outs.
Valentines Day Cards
Stations positioned around arena have different card decorating tools, markers, stickers, stamps, glitter pens, etc. Each station has an obstacle the rider must complete before crafting. Riders make a Valentine card for a horse at the farm. The card is mailed in the arena mailbox (another obstacle), and the horses stalls are decorated with Valentine cards.
Easter Egg Hunt
Riders complete obstacle course while collecting eggs.
Haunted Halloween Trail Course
Riders maneuver through cob webs, spiders, witches, skeletons in obstacle course.
Turkey Trot
Play-day including many balancing and coordination games such as sit-a-buck (where a dollar bill is placed under the rider's thigh to see if the rider can sit tightly enough to keep it pinned), egg and spoon race, bean bag toss, basketball, musical cones and more.