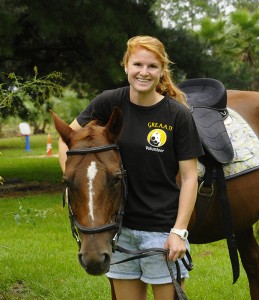 Alex Henderson
As a side-walker, Alex is responsible for helping students with the activities, and making sure they are safe, focused, and having fun. She started volunteering in order to diversify her therapy observations and she's stayed because of how everyone in the organization (staff, kids, and horses) makes her feel completely overjoyed. In her words, "The kids that I've worked with are some of the most truly wonderful individuals I have ever met in my entire life. If a ten-year-old girl knowing every president of the United States, including the years they were in office, doesn't astonish you, then I don't know what will. Volunteering for GREAAT! is nothing short of amazingly fun. I love coming out to Honey Horse Ranch in the morning to warm up the horses and side-walk during appointments. Horses need to warm-up before exercising too!"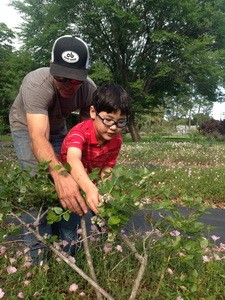 Matt Lucas
Matt is a former team roper/horseman who loves sharing his horses and time helping students ride. He has spearheaded the vegetable garden project allowing students to plant, grow and eat organic veggies. Everyone loves helping Matt harvest the garden.
Darlene Muto
Darlene is an artist who moved to Gainesville in Winter 2014. She attended Massachusetts College of Art in 2004. In 2008, she created Muto Art and has exhibited in several fine art shows and markets. Currently residing and care-taking for Honey Horse Farm, her responsibilities include daily feeding of horses, lesson preparation, side walking and learning to lead for Therapeutic Riding lessons. She combines art therapy with equine therapy for a double dose of fun. It has been fulfilling for her to be a part of the growth and development of this program, and forming new relationships with students and volunteers.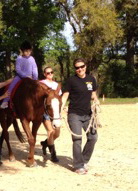 Tiffani Ray
Tiffani began riding horses when she was six years-old and instantly fell in love. She started with riding a pony around her backyard and moved to showing a Paint horse in Western, English, Jumping, and Trail classes. Her other passion was basketball which, after accepting a basketball scholarship to Colorado Christian University, led her away from horses during her college years. After receiving her degree in Health and Physical Education, Tiffani worked as an Athletic Director at the local YMCA. She loved working with the children but knew something was missing. It didn't take her sister, Brooke, long to convince her to move to Florida, where they could be neighbors and have all the horses from their childhood in their backyards. Currently, Tiffani works as a sports massage therapist, enjoys her two daughters and her two horses. When her daughters get a little bigger, Tiffani will begin working towards her PATH certification.
Sue Scholtes
Helping kids learn comes naturally for Sue Scholtes, who recently retired after teaching middle and high school students for over 30 years. Equine Therapy is the perfect intersection of Sue's profession and her favorite hobby, as she raised and trained horses all her life, taught her own daughters how to ride, and even rode competitively in her younger years. She has always had a special place in her heart for children with special needs- much of her career was devoted to challenged readers of all ages.