Mission
To help challenged individuals improve their physical abilities and independence through a variety of equine-assisted activities and therapies.
---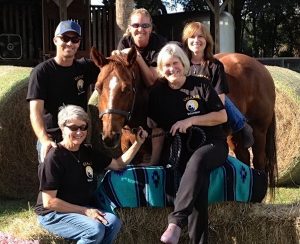 In October 2010, GREAAT! was formally incorporated in North Florida as a not-for-profit corporation that offers equine-assisted activities and therapy to individuals with special needs. A predecessor to GREAAT! was an organization known as Florida Horsemanship for the Handicapped formed and operated at Sunland (presently Tacachale) in the early 1980s by Katch Hienz. Carol Huegel, President of GREAAT!, who started as a volunteer with Ms. Hienz, developed the first Hippotherapy program in North Florida in 1983. Carol then began a backyard program, HOrses helping PEople (HOPE), starting with a single horse and three clients and progressing to serve more than twenty-five clients at her five-acre facility. Carol was President and a physical therapist at HOPE before leaving in 2007. She is integral to the development of the Hippotherapy and Therapeutic Riding programs at GREAAT!.
GREAAT! Goals
One of the top priorities for GREAAT! is that all our Directors become Professional Association of Therapeutic Horsemanship (PATH) Certified Therapeutic Riding Instructors, with at least one of the Directors continuing on to earn either the Advanced Instructor or the Master Instructor certification. The facility will become a PATH operating center with the goal of becoming a PATH accredited operating center. While this goal will necessitate a great deal of time and effort, the Directors feel that this move is imperative to ensure that the center is able to offer all clients the best available instruction.
In addition to providing equine-assisted-therapy to a wide range of clients, GREAAT! is also determined, as one of its top priorities, to become a premier teaching facility of Hippotherapy and Therapeutic Riding throughout the United States. The design of future facilities includes several multi-purpose rooms that may be configured to be used as both classrooms and as hands-on training rooms for properly certified professionals in the various fields that have become involved in equine-assisted therapy. These fields include physical therapists, occupational therapists, recreational therapists, speech-language pathologists, and psychotherapists.
The multi-purpose rooms are also intended to be used as therapy rooms for any of the professions that will be represented by GREAAT's! outreach programs, including all of those described in the previous paragraph. As part of the therapeutic training aspects of this program, GREAAT! will also have full DVD capability to allow videotaping of any of the therapy sessions and the means of reviewing these tapes in a private, secured area. The design of the facilities also includes an indoor pool intended for therapeutic use in the physical therapy group.