2017 Was a Year of Growth and Change The Horses
Cassie and Chippy have retired from GREAAT!. Both horses developed arthritis and could not comfortably jog circles anymore. They are happy in their new role as trail horses.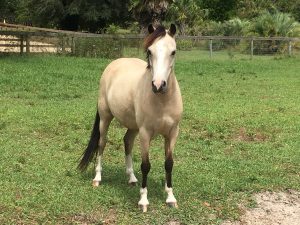 Taffy joined Honey Horse Farm the week of Hurricane Irma. She's a 2013 Welsh pony with previous jumping and games experience. Taffy is young with an amazing temperament for therapeutic riding. Her size is perfect to help the smaller riders develop confidence. We plan to teach her to pull a cart this year.
Jr. had to return home in December due to heaves, a breathing condition similar to asthma. Our neighbors planted rye grass in the 20 acre field behind our house. The dust from the plows was very hard on Jr. We hope he can come back, if only seasonally.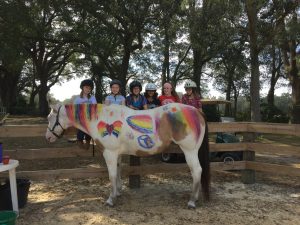 Bella spent a couple months in full-time training with Ken Najorka to prepare her for more work with students. She has done a suburb job stepping into the shoes of both Cassie and Chippy.
Reno sprained a back leg which kept her side-lined for 8 weeks. She dedicated herself to art therapy since she could not be ridden.
Honey Horse Farm and Garden
Our garden was a hit as always. We have added a worm bed to use for compost materials and worm castings to amend our soil. The blueberries got a late freeze in February so it destroyed the crop. Kale, lettuce and cabbage have been the most successful this winter.
Matt continues to develop the property. This year he built a mailbox as an addition to the obstacle course. It's a hit!
Our goal is to have a chicken pen built in time for spring chickens in 2018.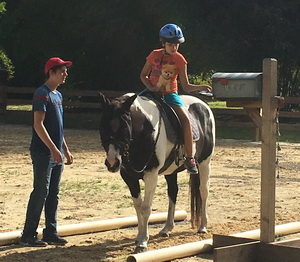 The sensory garden continues to develop and we are making arrangements to add a series of small hills to encourage trunk control.
We also plan to have lights put in the arena so we can extend evening riding hours.
The 2017 Student Awards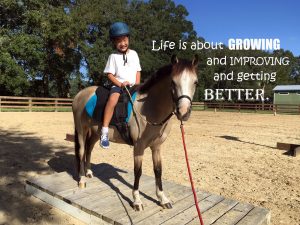 Asher was given a scholarship for riding from John and Laura Williams, and Constellation Brands Inc. Asher and his family have been so resilient through this year of sibling surgeries and health issues. He continues to use the horse as behavior modification in school and at home with much success. He had formed a strong bond with Cassie and loved her so much. It was hard for him to switch horses, but he has kept a phenomenal attitude and is doing really well on Taffy now.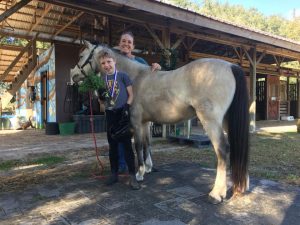 Misko was awarded "Most Improved" this year. Just a few short months ago, Misko was needing to have his lessons translated as he was new to the United States from Poland. It was frustrating for him to learn a language and a new horse. Now he speaks beautiful English—no translator needed—and is willing to ride any horse on the farm. His love for the animals is so strong you can feel it in his presence.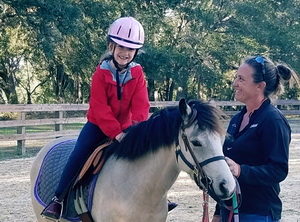 Milana earned the "Effort" award. As a 5 year old in 2107, Milana successfully began riding off lead, navigating the obstacle course by herself. By far the youngest rider to achieve this, she continues to step outside her comfort zone and try new exercises. Most recently standing in her stirrups in two point at a walk!! She always comes with smiles and giggles and is an absolute pleasure to have in the program.
2017 Volunteer of the Year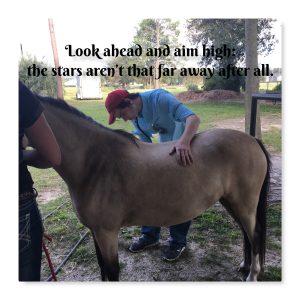 Paulis was awarded "Volunteer of the Year" for his commitment, his drive to learn as much as he can about the animals, and his charming personality that keeps the students laughing and the environment up beat.
A big thank you to all of our sponsors: Derby Gold, Aspen Ballet (Bebe Schweppe), John and Laura Williams, and Dorthy Lambert. Your support keeps us moving forward and this would not be possible without you.
We are so proud of this past year and the accomplishments that have been made. It is such a pleasure to watch all of the students grow, learn and improve.
Wishing you a Happy 2018.